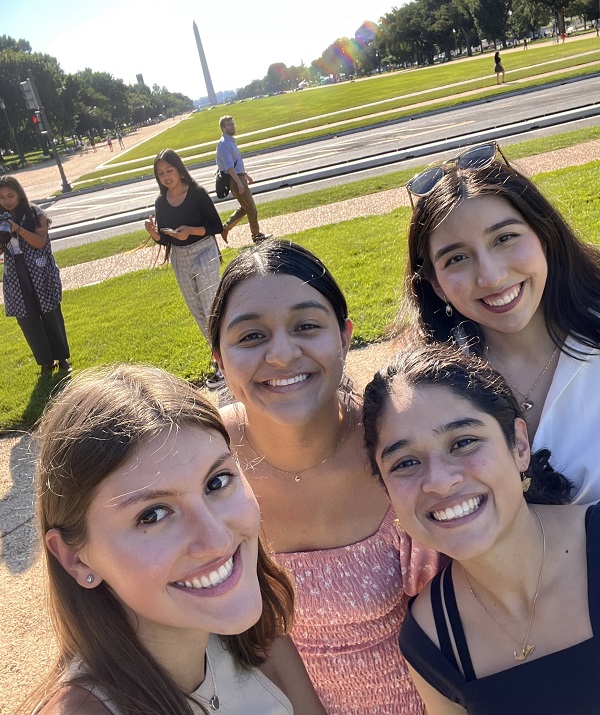 Maria Benavides of the 2024 cohort landed a spot in the first cohort of Latina Leadership Fellows with Esperanza United this summer. She says, "I had been thinking about ways in which I could combine my passions for immigration and gender-based violence advocacy when I came across a posting for the fellowship on LinkedIn." The fellowship was a perfect a fit, and she was offered a place in the cohort as a policy fellow.
She told us more about her fellowship experience this summer:
Tell us a little about Esperanza United.
Esperanza United, formerly known as Casa de Esperanza, has been utilizing the strength and resilience of Latin@ communities to end gender-based violence for almost forty years. Having been founded and led by Latinas, Esperanza does national work in training, research, and public policy to ensure that Latin@ and immigrant communities have access to culturally specific advocacy and resources.  
What made you want to participate?
Under United States law, a refugee is someone located outside of the United States who demonstrates that they were persecuted or have a fear of being persecuted due to race, religion, nationality, political opinion, or membership in a particular social group. 
I had no idea that other marginalized identities, such as gender, were not legally considered eligible groups to seek asylum. The explicit exclusion of gender from this law creates an enormous barrier for immigrant survivors of gender-based violence as not only are they more likely to get denied from asylum, but in the process of seeking refugee status they are forced to engage in re-traumatizing systems that do not consider or prioritize their experience and voice. 
I want to dedicate my life to change the way this law is written and enact policies that are culturally specific and trauma-informed to uplift immigration survivors of gender-based violence. After learning about the work Esperanza United has done in the field, I realized I could have the rare opportunity to work with prominent Latin@ leaders who understand and celebrate my culture. I knew that Esperanza could not only provide me with the tools to grow professionally but also help me build a community and work somewhere I could truly feel at home. 
What were your duties?
As a policy fellow, I participated in a series of policy and leadership trainings to better understand policy advocacy, research, and community leadership, examine protections for immigrant survivors, and identify key policy issues. Additionally, I had the opportunity to work on an individual policy project with my mentors. 
Throughout the summer, we investigated the practices that are currently in place for the U-Visa Certification process in Iowa (where my mentors are based) and throughout the country. The U-Visa was created by Congress to pave the way to permanent residency to immigrant survivors of gender-based violence. However, before a survivor can apply for a U-Visa they must receive a certificate signed by a member of a certifying agency (law enforcement, child protective services, etc.) verifying they are a victim of a crime listed under the U-Visa and likely to collaborate in an investigation process. Since there is no uniform federal policy for the U-Visa certification process, practices vary greatly between states. The goal of my project was to gather sufficient information (surveys, interviews, etc.) to draft a policy proposal to improve the certification process in Iowa and ensure it is survivor-focused, culturally specific, and trauma-informed. In August, I had the opportunity to share my project results at a convening for the fellowship in Washington, D.C. where I got to meet my fellow cohort members, the mentors, and the team at Esperanza!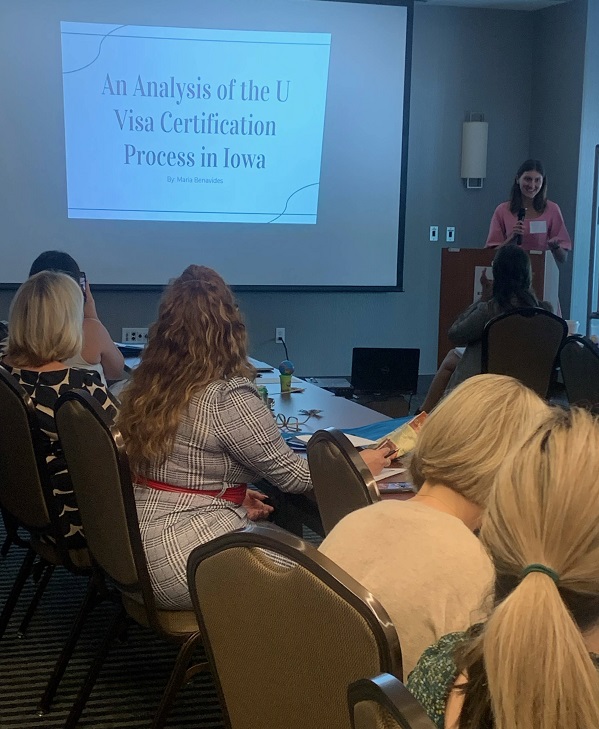 What have you learned from your experience?
Throughout the fellowship I was continuously reminded of the power of being surrounded by community. Working in the gender-based field can be very taxing and sometimes it is difficult to find ways to do the work while also taking care of yourself. However, I always felt energized and motivated at Esperanza. Even though the fellowship was remote, I truly felt close to everyone at the organization since fellows were always provided with a space to discuss the changes in policy we witnessed over the summer, get to know each other through book clubs and painting lessons, and grow together during office hours and trainings. 
I was inspired by the work of the other fellows and the organization's commitment to not only end gender-based violence but uplift the Latin@ community in the United States. I am so grateful to have had the opportunity to with Esperanza and I hope that as I continue to grow in my professional career, I can pass down everything I've learned this summer to other members of my community.