Image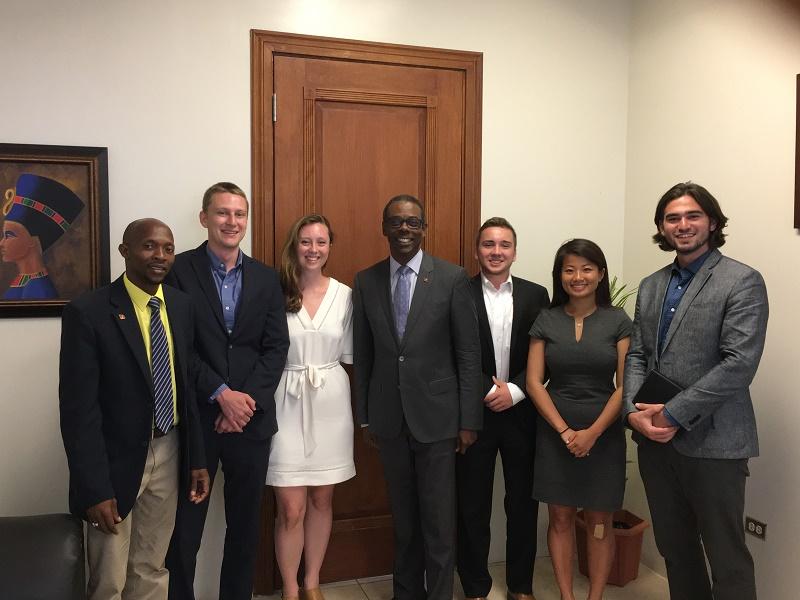 Altman Scholars Grant Lewis, Cara Williamson, Jake Runnals, Ruth Yao, and Brad Tyson from the 2017 Cohort meeting with government officials in Antigua and Barbuda. They received a grant from the Scholarly Engagement Fund to research the effects of a law that allows foreigners to gain Antiguan citizenship through direct investments. View the results of their research here.
Application Overview
The Altman Program Scholarly Engagement Grant Program is designed to promote scholarly activity that enhances successful completion of Altman Program curricular requirements, internationalized academic learning, and/or professional development. 
Funding Amounts, Usage and Reimbursement
Scholarly Engagement Grants are funded on a competitive basis up to $500.00.  All current Altman scholars are eligible to apply.  Appropriate uses for the grant may include, but are not limited to: summer study abroad programs, required summer academic coursework, travel to/from academic conferences, and travel to/from job interview sites that aren't reimbursed from the hiring firm. 
Reimbursement of expenses related to airfare or housing during junior year abroad will not be approved with these funds. Students who receive the Summer Internship Award are not simultaneously eligible for the Scholarly Engagement Grant. 
 
Application Timeline
The applications will be received on an ongoing basis. Applications should be received one month prior to when funds will be utilized. Applicants will be notified of the status of their proposal within one month of its submission.
Eligibility and Evaluation Criteria
Applicants must be members of the Altman Program in good standing (i.e. not on probation).
Proposals will be evaluated on the following criteria:
Quality of the proposal (i.e. relevance to the Altman Program goals, importance to successful completion of program requirements, value to larger academic community, etc.). Please note that you must provide a detailed explanation of your use of funds and the benefits you will gain from your scholarly endeavor.
Budgetary appropriateness.
Value for professional development.
Preference will be given to those Altman Scholars who have not yet received the grant previously. Altman Scholars are only eligible for one grant per academic year.
How to submit your application
Please use the following link to submit your application:
https://tulane.co1.qualtrics.com/jfe/form/SV_eX8CPFcXfieq0qp